Firewise – For a Safer Scott Valley
Scott Valley's own Ken Campbell has worked tirelessly on behalf of you, our Scott Valley residents, along with the Mill Valley Fire Department and the Firewise program to help Scott Valley achieve certification as a Firewise Community.
A special thank you to Ken and the Mill Valley Fire Department for all their hard work towards the goal of keeping Scott Valley fire safe. 
2020 – We have several projects underway and other long-term goals.  Presently, dead and dying trees at Camino Alto and Azalea are tagged to be removed in July.  In addition, a number of dead and dying trees on the island/median of Midhill Drive will be removed tentatively sometime in August/September.
Scott Valley Retains Firewise Safe Certification
Since 2016, Scott Valley has met the requirements necessary to be considered Firewise safe.  If your insurance company has canceled your insurance or is considering cancellation, please provide them with the below certificate.  In a number of instances, the cancellation has been reversed.  If your insurance company says they still want to cancel, Scott Barnes, Mill Valley Fire Chief (sbarnes@cityofmillvalley.org) offered to speak with insurance companies of those who are in threat of losing or have lost their insurance.  While there are no guarantees, in a number of instances, the insurance company has reversed its position.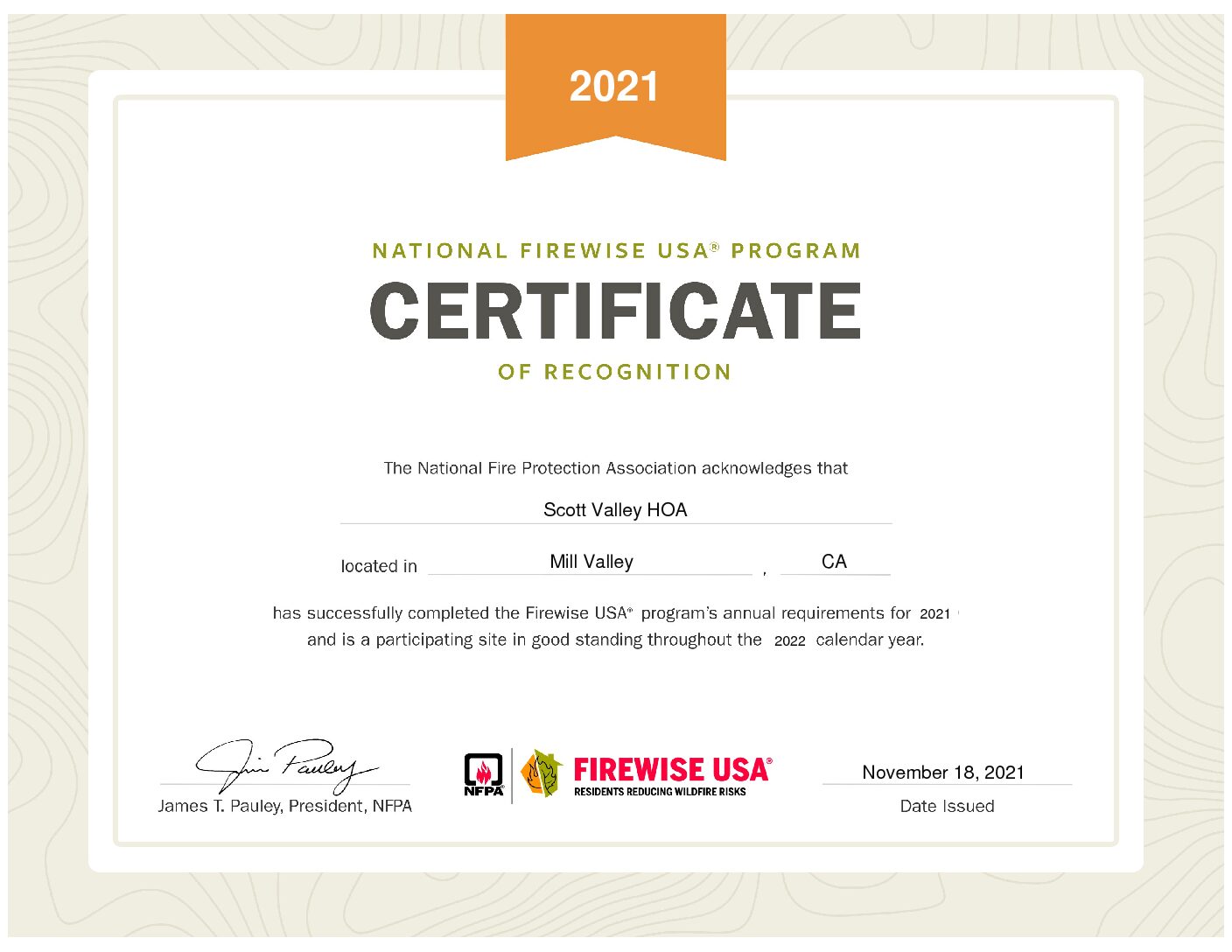 Visit the Fire Safe Marin website for information about Firewise and Scott Valley's participation.  https://www.firesafemarin.org/
2018 – Ken has been working with the Mill Valley Fire Department and the immediate homeowners between Vasco Court and Underhill Rd to remove deadwood and thick brush on either side of the bike path up to their property lines in order to mitigate potential hazards. It is our goal to continue with these efforts throughout Scott Valley.
Firewise is a national program that emphasizes community involvement and provides important information for residents to reduce the risk of wildland fire igniting homes.
Possible Homeowners Insurance Reductions – Contact Your Insurance Company
Scott Valley has been Firewise certified since 2016.  This endeavor allows Scott Valley residents to contact your property insurance company informing them of our status to determine whether you are entitled to a discount on your property insurance.
For additional information about fire safety and prevention, visit the National Fire Association website at  https://www.nfpa.org/Public-Education